It's November, so in my world that could mean only one thing…lots and lots of requests for Bar and Bat Mitzvah logos!!! Every year like clockwork, Mitzvah families honker down and realize their Mitzvah is right around the corner.
The top questions I ask of my clients are generally the same. Is there a theme? Do you have colors in mind? When is your event? Do you have a venue picked and the most important one is whether or not they have seen a logo that they like? I know that may sound like I am just looking to rip off another logo from a designer, but it is not the case. I like to see the type of logos that they are drawn to so I get a sense of their aesthetic. I can't be expected to be a mind reader…or am I? 😉
What seems to be a trend that is definitely not going away anytime soon is Pinterest. Either you know nothing about it, know about it but don't have the time nor the inclination to deal with it or if you are like me…OBSESSIVE COMPULSIVE about it! What I have started recommending to all of my clients is that they start a pinterest Mitzvah board of things they find online that they like for their Bar Bat Mitzvah. You can pin anything from a logo, party favors, table decorations, food, the list goes on and on. That way, I can go to your board and see what you like. (Below you will see some of my boards on Pinterest)
Whether you use my services or not, whomever you hire will be grateful that you have a "vision board" of your Mitzvah!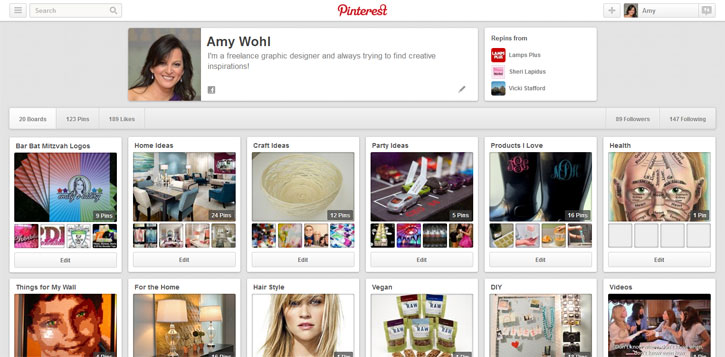 If you end up creating a Bar Bat Mitzvah Board, you can easily send the entire board via email to whomever you want.