Venue, check! Save the Dates, check! Invitations, check! Now what? As the anticipation of your event emerges, you have sleepless nights as to the actual night of the event. Where will Aunt Rose sit? Will the Silverstein's get along with the Smith's? And…more importantly WHAT WILL THE SPACE LOOK LIKE! Cue, WallMonkeys! I recently created a logo for a family that needed the graphic for a decal. To save time, I was requested to send the logo directly to them. After viewing their website, have to say I became obsessed! See below to learn more about what they can offer Bar Bat Mitzvah planning families…(photo courtesy of TheImagePhoto.com)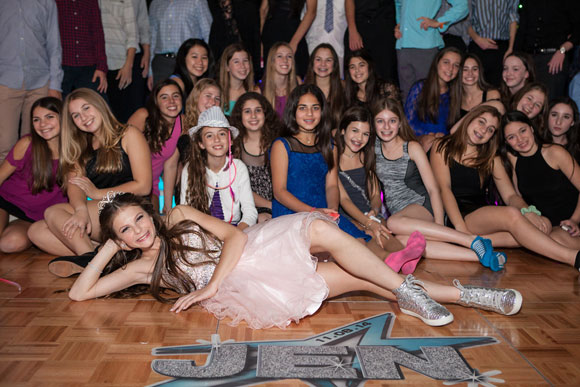 Describe your business?
Wallmonkeys is an online company headquartered in Gaithersburg, Maryland, specializing in premium, custom-printed wall decals and murals. Our material is an easy to apply, matte, opaque, self-adhesive canvas-like material that is completely removable and reusable, without damaging your walls! Customers are welcome to select from our catalog of over 20 million stock images, or submit their own photo or design to use. We have a fast turnaround time– orders placed before 9am EST are often printed the same day, and shipped out the following business day. Each of our decals are custom-printed to order, as each order is placed. We never carry stocked items.
Explain what you can offer to Mitzvah planning families?
Custom wall decals make excellent Bar/Bat Mitzvah decorations. Our decals are often used not only to decorate venue walls, but also as signing boards in lieu of a guestbook, photo booth backdrops, and even as a centerpiece to dance floors! We offer custom wall decals ranging from 12 to 72 inches wide or tall. Each of the sizes can either be ordered cropped (we remove the background, giving you a contour cutout of just the subject), or uncropped (the image is left as is, and printed poster-style). Custom decals that are 36 inches or larger also include free 12-inch mini decals of the same image.
If you need a mural that is larger than 72 inches, we are more than happy to help create a special order for you. Simply contact our customer service team at 888-369-9255 or cs@wallmonkeys.com for more information. Pricing for oversized murals begins at $6.50 per square foot.
If customers are ever unsure about the quality of their image before placing an order, they are always welcome to directly email the file to cs@wallmonkeys.com. Our customer service team will review the image for quality and make sure it meets our printing standards.
What would the Mitzvah planning family need to submit in order to get a job completed? And how much time do you need?
Our regular turnaround time is 2-3 business days, not including shipping. To ensure the best quality for your decals, as well as prompt delivery, we recommend placing your order at least 2 weeks before the day you need your decals. Standard shipping within the continental US can take up to 5-7 business days, but expedited shipping options are available.
When submitting your own images for a custom wall decal, we strongly recommend using high resolution JPG or TIFF files that are at least 300 DPI and a file size no smaller than 2 megabytes (MB). If you are submitting a logo, for best results we recommend using the original AI, EPS, or SVG vector file. If there is ever an issue with your order, such as the image being too low-resolution, our customer service team will contact you. Our material is an opaque white, so if your image contains intricate detail or lettering, there will be a contour-cut white border around the image by default. We currently do not offer clear or glossy material. If the decal is going on a painted wall, we are able to color match the border at no additional cost. Similar to if an image is too low resolution, if your image requires a border, we will contact you and offer a color match– all we will need is your paint information, and we will even show you a proof of what the color matched decal will look like before we being printing. We always make sure that every custom wall decal is to the customers' liking.