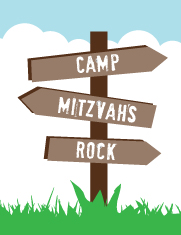 Not too sure how I got involved with creating websites for camp mitzvahs but I did. I'm not talking about "theme-based" celebrations, I'm talking about having the Bar Bat Mitzvah Service and celebration at an actual Sleepaway camp.
Growing up on the east coast, going to sleepaway camp was more normal than not normal. I remember very distinctly awakening to my *mom telling me "Your packed and ready to go to camp!". Next thing I knew, hours later I was being dropped off at Camp Timberlake Bunk #1. (*My mom would tell you a different story, but I have the better memory!)
Here I go digressing again…anyway…
When planning for a camp Bat Bar Mitzvah, there are many more things you have to prepare for. It's most like preparing for a destination wedding! I have worked with many Bar Bat Mitzvah families on their camp websites and each celebration is very different. For example, some will have their Bar Bat Mitzvah Service at their Temple on a Friday, then Saturday morning have all their guests drive up to camp for an entire day of celebration and sleep over. Others will have the Bar Bat Mitzvah Service and party at camp. There is no right or wrong way to have the event, it's just a matter of preference.
Below are a few things for you to consider when having a Sleepaway Camp Bar Bat Mitzvah:
Is the camp nut allergy free? Will there be a doctor/nurse on call near the camp?
Will the camp have supervision the entire weekend? Will there be counselors in each bunk?
How many buses do you need to transport the kids from your town to camp?
What accommodations does your sleepaway camp provide? Do they offer linens, pillows or towels?
If someone doesn't want to sleep in a bunk, are their hotels or inns near the camp?
Do you need to have waivers signed by each kid prior to attending the celebration?
The list goes on and on, but this is just the beginning of what you need to start thinking about. When I work with my clients on their camp website, I am able to go thru the information and help figure out what other information is needed.
Below are a few of the websites that I created: